Skin Peels
So, what is a skin peel?
Also known as Chemical Peels, skin peels improve skin texture and tone by safely removing the outermost layer of dead and/or damaged cells from the skin's surface while encouraging the growth of healthy new cells. The process triggers the body's natural self-healing process and facilitates faster cellular turnover. Skin peels also trigger long-term collagen production for improving overall skin health.
Skin peels rejuvenate and clarify skin while improving the appearance of hyperpigmentation, fine lines, acne scars and sun damage by stimulating the production of collagen to enhance elasticity and firmness. They are also an excellent way of treating congestion and acneic skin.
Treatments can be customised to suit a variety of concerns and combined with other treatment modalities, such as microneedling, or used as part of a skin treatment programme.
How do skin peels work?
Clinical grade skin peels are safe, advanced and able to penetrate the skin at deeper layers to create greater cellular rejuvenation.
The peel solution is applied to the skin which causes the protein bonds in skin cells to separate and peel away, revealing healthy new skin beneath the previous layer. As dull and damaged cells slough off, the resulting resurfaced skin will be smoother and more even in tone, clarity and texture.
The solution is applied for less than 10 minutes and you will feel a tingling sensation and warmth rather than pain. When the expected response is achieved, the peel is neutralised.
Is there any downtime?
Downtime is minimal. Immediately afterwards there can be some mild or moderate redness of the skin, however, this redness normally only lasts a matter of hours dependent on the peel strength. SPF will be applied following your treatment and it is important to maintain this at home as skin can be more sensitive to sunlight following a peel.
After 2-3 days your skin may feel drier and some flaking may occur, however, this is normal and part of the healing process in which new skin cells are being formed.
Aftercare will be discussed with you during your initial consultation.
Are they suitable for my skin type?
Skin peels are effective for most skin types and conditions. Regular skin peels make an excellent treatment option for clients wishing to keep skin looking younger, healthy and fresh.
Before your in-clinic skin peel can be undertaken, you will need to pre-prepare your skin at home for approximately 2 weeks with a face wash and moisturiser. This is to improve results and reduce the risk of adverse reactions. This will be discussed with you at your initial consultation.
What types of skin peels are available?
We offer a range of skin peels to suit your individual needs and provide both single, and more advance combination peels. Your practitioner will help determine which type of peel is right for you at the time of your initial consultation. We only use the most advanced skin peels as these products are clinically proven to optimise results and reduce the risk of adverse reactions.
How often can you have a chemical peel?
This depends on your skin type, age and the type of peel being used. Most peels can be undertaken every 2-4 weeks.
Where should I get a chemical peel?
Only use a professional, suitably qualified practitioner to undertake your treatment. Although you will read and hear a lot about chemical peels, in-clinic peels are very different than those found in 'high street' bought products. Clinical grade chemical peels are strong and can have the potential for negative and unanticipated results if applied incorrectly. This may include scarring, swelling, infection, or discoloration.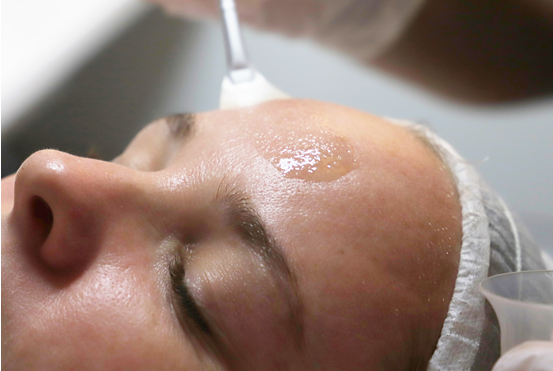 "Do you want brighter, more healthy and youthful looking skin?"
Key Benefits
anti-aging & rejuvenating
improves skin tone & texture
builds collagen
improves cellular turnover
reduces fine lines and wrinkles
reduces scar tissue
boosts radiance
diminishes sun damage – pigmentation
clears congestion – acne & rosacea
improves absorption of skin care products
SINGLE PEELS
Glycolic Acid, Lactic Acid, Mandelic Acid, Salicylic Acid
ADVANCED COMBINATION PEELS
Modified Jessner, Azelan or Melanostop tran
TCA 15%
Our most powerful peel. Excellent antiageing and depigmentation treatment.
RETINOL PEELS
No downtime and no prior skin preparation required. Suitable for all skin types.
All appointments will last about 1 hour.
Maintenance Packages, Skin Preparation & Treatment bundles are available. Please discuss with your aesthetic practitioner.
Skin Peel treatments can also be combined with other treatment programmes.