Micro Needling
So what is Microneeding?
Microneedling, Medical Skin Needling or Collagen Induction Therapy is aimed at stimulating the body's own collagen production. Collagen is an essential protein that helps keep the skin looking youthful, firm and smooth in texture.
Microneedling reduces the appearance of fine lines and wrinkles, stretch marks, skin laxity and scarring such as that caused by acne, injuries or post-operative procedures. It is also useful for treating pigmentation irregularities or for hair restoration.
What does the treatment involve?
The treatment produces micro-injuries to the skin surface to encourage the body's ability to re-grow and repair itself naturally. The needling device contains 12 micro-needles which create up to 10,000 micro-injuries per minute. The speed and depth are fully controlled dependant on the area being treated. The body's healing mechanisms are triggered and collagen, human growth factors, hyaluronic acid are then synthesised.
The microneedling device used in your treatment is of the highest clinical professional quality. All needles are sterile, single use, disposable items. Therefore, they are used only once. The needling procedure typically lasts between 20-30 minutes.
To enhance the treatment further we can add fractional mesotherapy. These pharmaceutical grade ampules contain mesotherapy active ingredients, vitamins and minerals which are able to penetrate up to 300% more into the skin via the micro-injuries. This promotes quicker healing and maximises results. We offer a range of ampules – see below.
Is there any downtime?
The depth of micro-injury is dependent on the area being treated. For depths of less than 0.5mm the procedure is usually painless and feels more like a gentle scratch. For treatments over 0.5mm, we can if needed, apply a prescription strength numbing cream for your comfort. However, for many people this is not required.
Is there any downtime?
Depending upon the depth of treatment, you would expect to see reddening (erythema) on the area that has been treated. The area may also tighter and warm, similar to sunburn. Everyone's response is different, however, for most people this would gradually reduce over 6-24 hours, and up to 48 hours for deeper treatments.
Are they suitable for my skin type?
Microneedling is a safe and effective treatment for all skin types and can be performed on both the face and the body. Skin of colour requires a more gradual and less invasive treatment, as does mature skin.
The procedure makes a great pick-me-up for damaged skin but also can be used to keep youthful skin looking healthy and fresh. So great for all ages. Regular microneedling treatments can improve the skin's health and is clinically evidenced to reverse visible signs of ageing.
How many treatments do I need?
We advise clients initially undertake 3-6 treatments to maximise the benefits. Mild sessions can be repeated every 2-4 weeks while deeper treatments, or those with more mature skin or skin of colour should be treated 4-6 weeks apart to support healing.
Microneedling is particularly effective when combined with a course of skin peels or Radio Frequency treatments – see our bespoke packages for options.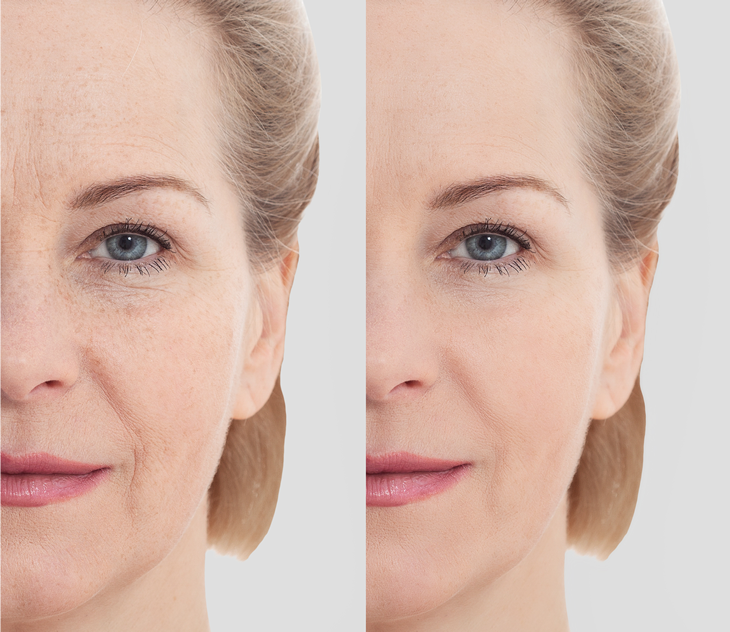 "Collagen boosting, anti-ageing treatment to combat premature ageing and correct damaged skin"
Key Benefits
Anti-ageing, improves skin tone, texture and pore size.
Stimulates new collagen to provide visibly younger, smoother and firmer skin.
Reduces fine lines and wrinkles.
Corrects sun damage and hyperpigmentation.
Can be used on the face, body and scalp.
Safe to use in delicate areas, such as lips, around the eyes, back of hands, etc.
Reduces stretch marks.
Reduces scar tissue, such as acne scarring, burns, scolds, etc.
Treats hair loss in both men and women.
ONE AREA – SMALL
eg. hands, neck, crows feet, hair loss patch
LARGE
eg. face, stomach, thighs, hair loss – large area.